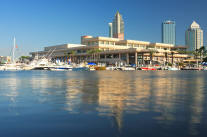 The workshop will be collocated with ICPR 2008 in Tampa, Florida at the Hyatt Regency Hotel (Room: Regency 5).
With pristine beaches, numerous parks, arts and science museums, and vibrant night life, Tampa Bay is a popular destination for tourists.
Please visit the ICPR 2008 web site for details on accommodation, travel and visa issues.